WATERFORD DEHUMIDIFIER SERVICE
Professional Installation & Repair of Home Dehumidifying Systems
Just Right Heating & Cooling is proud to provide a variety of indoor air quality services to improve the air you breathe in your home. One of the factors that affects indoor air quality is humidity.
The moisture level in your home can cause problems for your home and even to your health. To help alleviate the various issues with too much humidity, Just Right provides professional installation of residential dehumidifiers.
Health Problems from High Humidity
If you suffer from allergies, you can take steps to relieve your systems at home with a dehumidifier. Too much humidity can cause a great deal of allergy-related problems. Such things as dust mites, mold and mildew thrive in humid environments.
Wheezing
Stuffy nose
Difficulty breathing
Irritated eyes
If you experience any of those health problems, getting indoor air quality products installed in your home like a dehumidifier can make your home feel more livable.
Those who live in homes or spaces with little ventilation can experience more aggravated problems from these microscopic particles. This can often be a problem for people who live in newer constructed homes that don't have the drafty issues older Waterford homes can have.
Call Just Right today for a free quote on dehumidifier installation in your home (248) 673-0438.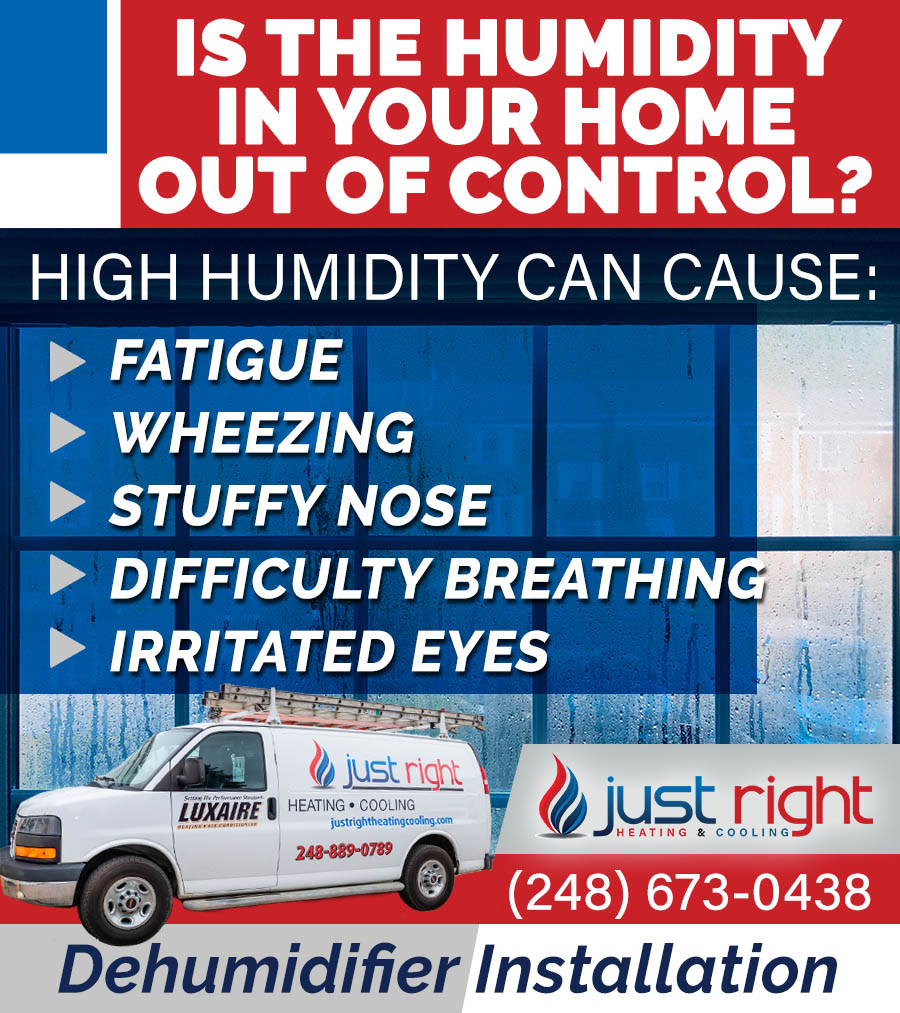 Dehumidifier Benefits
In addition to alleviating a variety of health issues, residential dehumidifiers can provide other great benefits to your home.
Dehumidifiers can make your house smell better! In removing and minimizing particles like mold and mildew, dehumidifiers help get rid of the bad and musty odors caused by these contaminants.
Removing the excessive humidity from your home can also improve a lot of items in your home.
How a Dehumidifier Helps in the Home
Your clothes and linens will dry faster
Food like bread and cereal will remain fresher longer
You will experience less rust and corrosion on electronics and tools
Lower Humidity Means Lower Home Costs
You can get a financial benefit to getting a dehumidifier installed in your home.  Removing the moisture in your air with a dehumidifier will allow your air conditioning system to operate better and more efficiently. You should expect to see your monthly energy bills go down AND to enjoy an AC system that last longer and needs less repairs!
Professional Dehumidifier Installation & Service in Waterford Township
With the installation of a dehumidifiers, you can get control of the humidity levels inside your home. We only install top quality, affordable dehumidifiers that improve indoor comfort.
Whether you are looking for a whole house system or portable dehumidifiers, Just Right Heating & Cooling is the right Waterford company you can rely on.  We provide a wide selection of quality products installed professionally and at honest pricing.
Call (248) 673-0438 today or contact us online for a free quote and consultation.