What Size of a Furnace Do I Need?
5 Factors for Sizing Heating Units for Michigan Homes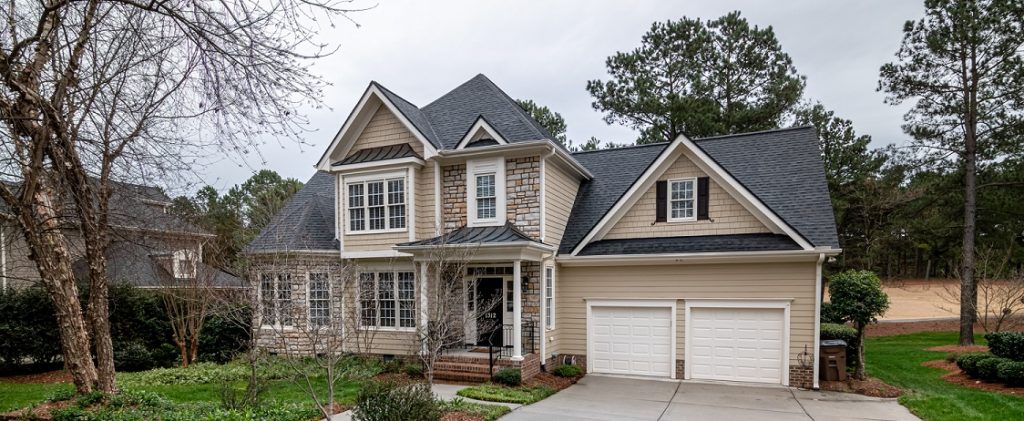 The Investment of Home Heating
When it's time to upgrade your furnace, you will be making a big investment for your home. While it may not be an expense you're looking forward to, you should realize there are major benefits to upgrading the heating system in your home, especially when your current one isn't performing as well as it should. One of the first decisions toward upgrading your home's heating system is determining the size of furnace your home needs.
Keeping an Old Furnace Past its Time
Many Michigan homeowners are fortunate to have a heating system they've been able to rely upon for two decades or more. But while the old system has been successfully keeping your home warm each winter, it's likely working harder and less efficiently than it should.
Maybe your furnace has begun having issues such as sometimes blowing cold air or the pilot light not staying lit. If you've had to call technicians out to handle heater issues more than a few times in recent years, it's probably time to replace it.
But even a working furnace may need to be replaced, especially if it's not the right furnace size for your home. If you've noticed your monthly utility bills going up, that may be because your furnace is not heating efficiently. It's working harder to put out enough heat for your entire home. Getting it replaced with a new, efficient furnace can make a big impact on those monthly bills.
Replacing your heating system is a big investment, but consider these factors:
Benefits of installing a new furnace:
Home feels more comfortable
Saves money on repairs
Value of home increases
Decreases your monthly energy bill
Decreases your carbon footprint, your home is more environmentally friendly
Makes your home more desirable when selling
Reduces the worry that your furnace will break down in the middle of winter
4 Factors to Finding the Right Furnace Size for your Home
At Just Right Heating & Cooling, our heating installation technicians are trained and experienced in finding the right type and size of system that a home needs. It's definitely not a one-size-fits-all situation. Many factors help determine the proper unit for a home.
It is not an easy task that many can do on their own. Many of the furnaces we have worked on in and around Waterford Township simply aren't the right system for the home. If you don't have the right size of system for your home – whether too big or too small – you will feel the effects of a lack of comfort and overly high energy bills.
Here are some of the factors that determine how to know what size of heating system is right for an individual home.
1. The Size of Your Home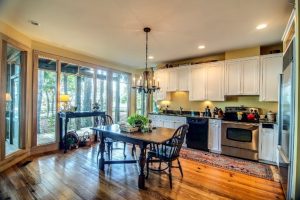 If you don't already know the square footage of your home, that can be an easy thing to find. Entering your address to national home listing sites like Zillow can provide you with the square footage of your home. Otherwise, you can determine the total size of your house by adding up the square footage of every single room in your home.
Family room
Dining room
Kitchen
Master bedroom
All other bedrooms
Basement
Each of the bathrooms
Laundry room
2. Our Climate Zone
Determining the right size of a furnace is about more than the size of your house. The climate you live in plays a big role in determining the proper furnace size. For those of us in Oakland County and across southern Michigan, we would consider ourselves in Climate Zone 4, although close to Zone 5.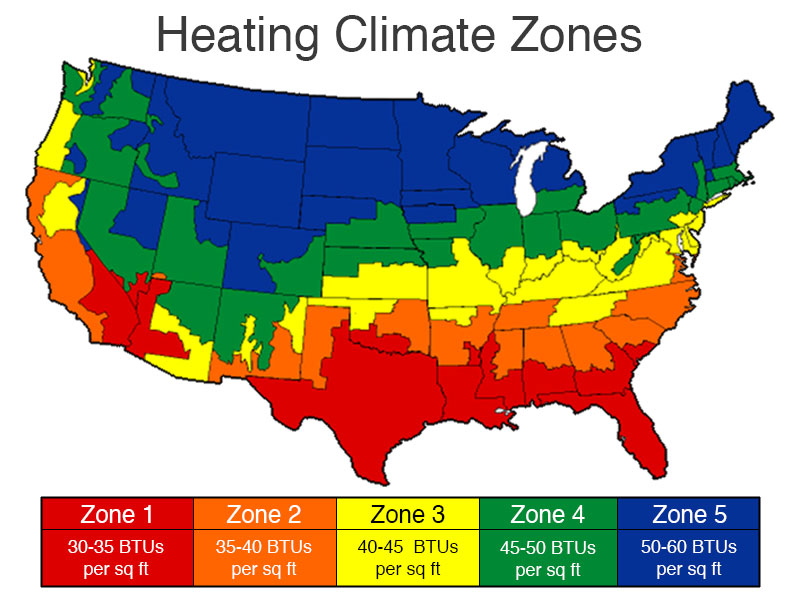 3. The Right BTU for Your Home
Now it's time to do some math to find the accurate furnace size. Multiply the total square footage of your home with the BTU requirements for your Climate Zone. BTU is a measurement of the energy that is used to make a heating system work.
Let's assume you have a 2000 square foot house and live in Waterford Township. Using this square footage, you can determine the BTU output that is best for your size of a house. The proper BTU range for Zone 4 is 45-50 BTUs per square foot. This means your home will need a furnace that has at least a 90,000 BTU rating.
2000 x 45 = 90,000 required BTU output
4. Unit Efficiency
But the calculations are not done. Even though a furnace may list a BTU number that meets your home's requirements, you need to determine what level of efficiency that heating unit has.
Consider this scenario: Your home currently has a furnace with an output of 100,000 BTUs. While that should be enough to properly heat your home, if your old system isn't efficient, then it is not a large enough furnace for your home. An old 100,000 BTU furnace with merely 75% efficiency means that you are only getting 75,000 BTUs. And that is way too low for any Michigan home.
You may be able to replace that old, inefficient unit with a new 100,000 furnace with 92% efficiency. This newer, more efficient unit will give you an output of at least 92,000 BTUs, which would be sufficient for a 2000 square foot home here in Waterford Township.
5. Insulation Can Impact Furnace Size
There are times when you might want to aim for a higher BTU, especially if you do not have proper insulation. If your home is not well insulated, you may need to do calculations for BTU for Climate Zone 5. You will need a furnace with a higher BTU to make up for having insufficient insulation.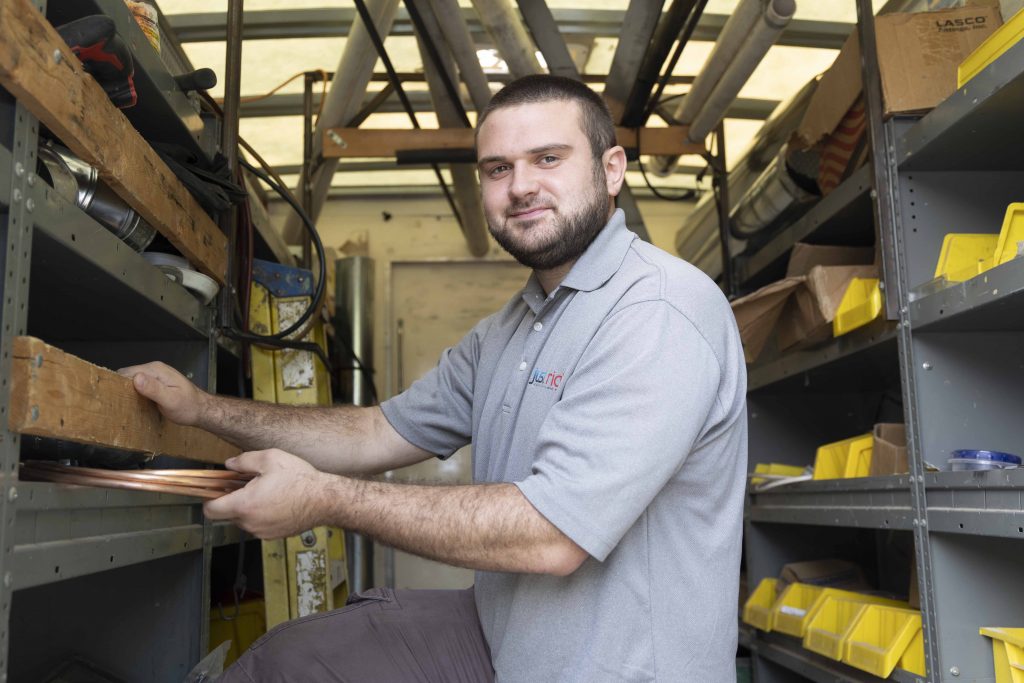 Thankfully, you don't have to figure this out all on your own. Our Just Right Heating & Cooling technicians will be happy to assess your home's specific needs to help you determine which furnace size is right for your home.
With many years of experience installing heating and air systems in homes across Waterford Township and surrounding Michigan communities, you can trust us to find the best and most energy-efficient option you need. And to make sure you have the right furnace size that your home needs.
Call Just Right Heating & Cooling today at (248) 673-0438 or send us a message online.